Happy New Year to all my wonderful readers!
2018 has come and gone, and the Flavor Bender grew from strength to strength, all thanks to you guys! Thank you for trying my recipes, sharing them with your loved ones, letting me know about it and helping me grow this dream of mine. It wouldn't be anything without you guys. 🙂
Now I'm excited to find out what 2019 has in store for me.
What did you like and not like about 2018? What are you looking forward to in 2019?
Here's a look back at my 10 most popular recipe posts from 2018!
A favorite come Halloween time. It's pretty, it's easy and it's wicked delicious. So it's no surprise that Halloween enthusiasts loved whipping up this cocktail for Halloween parties.
Christmas just isn't the same without gingerbread, and a classic Gingerbread House makes it even more fun! This simple gingerbread house can be decorated any way you like, and it was a favorite for a lot of my readers in December!
How could you say no to this trippy, color-changing lemonade slushie? This is my original recipe and it went viral in the Summer, and I've heard from a lot of readers who recreated it with delicious results.
This post was one of my earliest. It's unbelievably easy and delicious and perfect for Summer. Healthy too. I'm planning on re-vamping the post this year with better pictures.
This was one of my favorite posts to do in late 2017, and it got a lot of traction in 2018. I got to share all the tips and tricks and secrets to making perfect marshmallows at home – something I've been doing for a very long time. So many of my readers made these marshmallows, with vanilla flavor OR with their own flavor twists, and shared photos with me. It was amazing! 🙂
Another one of my favorite posts because I got to see so many photos from my readers who made choux pastry for the first time and loved it! I love making eclairs and profiteroles, and I was so excited to share with you all the ways to perfect the art of choux pastry.
Not to toot my own horn, but this really is the best damn chicken curry ever! We make this so often, I could probably cook this with my eyes closed. It's comfort food for us, but I am SO glad that so many of my readers tried and loved this chicken curry! 2019 will bring more classic curry recipes on my blog for sure.
Choux pastry isn't the same without some delicious pastry cream inside! So I'm glad that my pastry cream recipe came in at NUMBER THREE in 2018! I often find myself eating it straight from the bowl. 😉 Delicious and easy.
I've heard from many of my readers who said that they are never going to buy store-bought puff pastry again after trying this recipe. Really, this rough puff tastes so much better than store-bought and you can use it for a variety of recipes.
Now, for the MOST POPULAR RECIPE POST of 2018…
It's no surprise that this sweet chili sauce is NUMBER ONE! Sweet Chili Sauce is a popular condiment all over the world, and it's so much easier than you'd think to make it at home. This homemade sweet chili sauce can be easily customized to your liking too. I've shared lots of tips and different versions of this sweet chili sauce, to take advantage of what you have access to at home.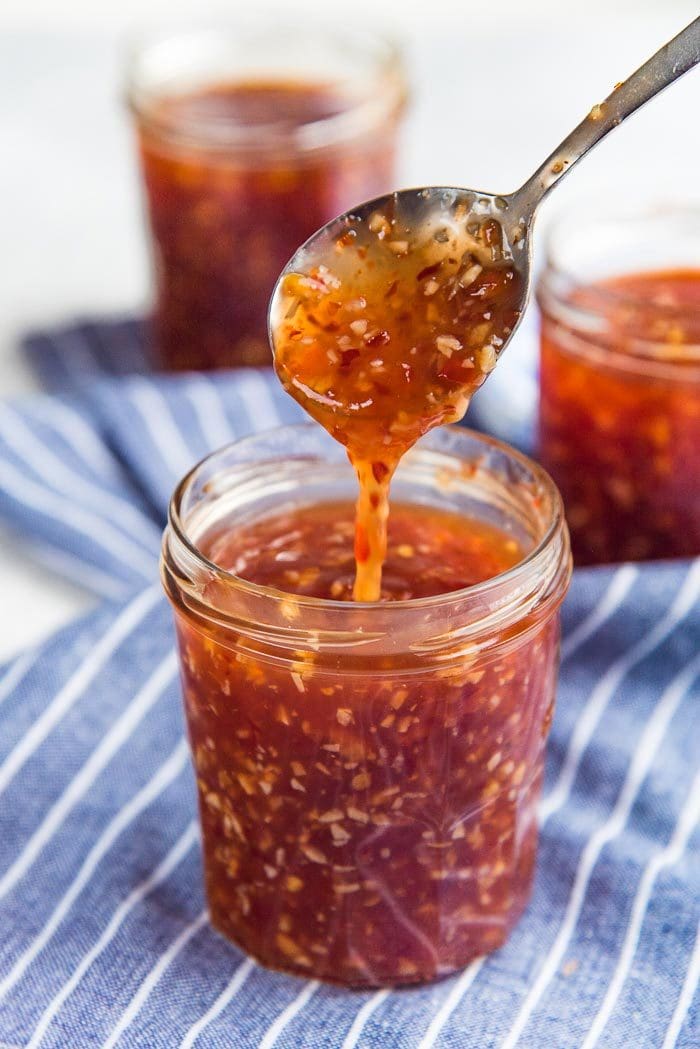 So there you have it! The top 10 recipes from my blog in the year 2018. 🙂
Which one is your favorite? It could even be one that didn't crack the top 10. There's heaps more to pick from, and heaps more coming your way in 2019.
Here's to a happy, healthy and prosperous 2019 to all my readers out there!