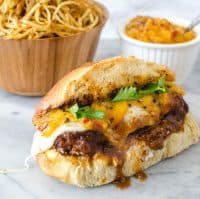 Curry Chicken Meatball Sandwich
Print Recipe
Chicken Meatball Curry
100

g

onions

minced or chopped finely

3

cloves

garlic minced

1

cm

ginger grated

½

tsp

cayenne

1

tsp

pepper

½

tsp

salt

1

tsp

curry powder

1/2

tsp

cumin powder

1/2

tsp

coriander powder

½

tsp

cinnamon powder

½

cup

ketchup

2

tbsp

sugar

¾

cup

chicken stock or water
For the Meatball Sandwich (per sandwich)
1

bread roll or homemade hot dog bun

3-4

chicken meatballs and sauce

depending on the length of the bun

2

slices

of Provolone cheese

2

heaped teaspoons of Sweet and Spicy mango chutney

better if the chutney is cold

Cilantro

optional
Chicken Meatballs
Cut the chicken pieces into cubes and place them in the food processor and process until you have minced them. Add the caramelized onions and spices and salt, and pulse for a few seconds until everything is mixed through.

Transfer this chicken into a bowl and mix in the bread crumbs and the yolks using your hands. Make sure everything is mixed well.

Using a small scoop (like the one you'd use for cookies), separate the chicken into small portions. Using slightly wet hands, roll them into smooth balls and place them in a non stick tray or container until you are ready to brown them.

In a non stick pan, heat a couple of tablespoons of oil over medium high heat and fry the meatballs in batches until they are brown all over (not cooked through). Place them aside.
For the curry
Heat a couple of tablespoons of oil in a saucepan over medium heat. Place the onions, garlic and ginger and mix well.

When the onions start to turn translucent, add the cayenne pepper, black pepper, cumin, coriander, cinnamon, curry powder and salt. Saute for about 30 seconds just to roast the curry powder. Add the ketchup (tomato sauce), sugar and chicken stock (water) and mix well.

Add the meatballs at this stage and gently mix them with the curry sauce. Bring the curry to a simmer and cook the chicken meatballs for about 10 minutes. Leave them to cool slightly.

These meatballs will taste better the next day. Can be easily frozen at this stage as well.
To Assemble Meatball sandwiches
Preheat the oven to 350°F/ 180°C.

Cut the buns along the side but not all the way through. Butter the insides of the bun.

Place the chicken meatballs along with some of the sauce inside the bun, and then two slices of provolone cheese on top of the meatballs.

Place the buns on a baking tray and transfer them to the oven to toast the bread and melt the cheese.

Once the cheese has melted, remove the sandwiches from the oven, and when they are cool enough to handle, spoon some Mango Chutney over the melted cheese.

Top with some Cilantro and serve.