The best spicy sweet chili sauce is easy to make, easy to adapt, and most importantly, absolutely delicious! And that's exactly what this sweet chili sauce recipe is.
Learn how to make sweet chili sauce with this easy, step by step recipe. Great for canning, and pairs so beautifully with so many different dishes!
Why I love this recipe
This is an easy sweet chili sauce recipe! It comes together in just 10 minutes.
That also makes the recipe easy to adapt. I provide ingredient substitutions to make the recipe even easier and more versatile.
Ridiculously delicious. A thick, sweet, spicy, umami dipping sauce is just about the perfect condiment for anything from spring rolls, fried chicken, chicken wings, and chicken nuggets to fried calamari, cheesy toast etc.!
Easy to store (can be stored in the fridge for up to 2 weeks easily). But the sauce can also be canned for longer storage!
What is sweet chili sauce?
Sweet chili sauce is a simple to make, thick, sweet and spicy sauce with a delicious garlicky kick. You can actually see pieces of chili and minced garlic suspended in the sauce in the pictures in this post.
Also known as Thai sweet chili sauce or Asian sweet chili sauce, this sauce is a classic condiment in Asian cuisine, especially Thai and Vietnamese cuisine.
Yes, it's readily available in most supermarkets and grocery stores. But if you know me, you know that I love to make whatever I can, whenever I can, from scratch.
And this is one of those things that really is simple enough that you can make yourself at home easily. And nothing beats homemade.
Because you know exactly what goes in it, it's healthier, and with this recipe, you know that the results are going to be glorious!
So on one of my trips to the grocery store, I looked at the label on the sweet chili sauce dip and the ingredients were – sugar, water, pickled red chili, rice vinegar, garlic, salt and xanthan gum. That sounded simple enough, and all I needed was to find the best ratio of those ingredients.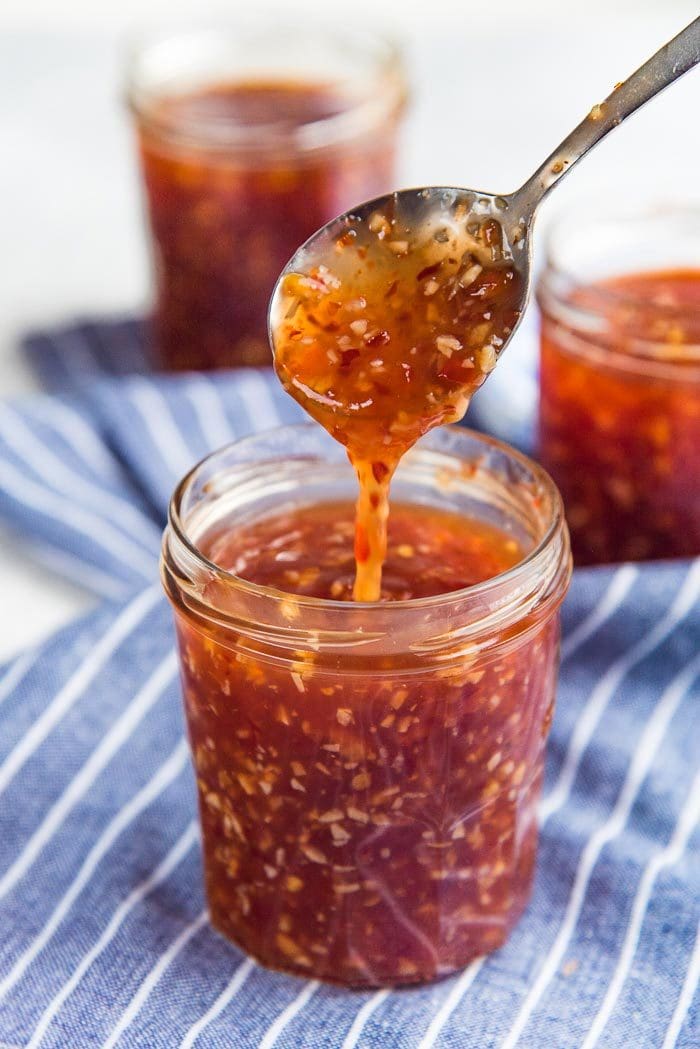 Sweet chili sauce ingredients
Sambal oelek
One of the ingredients to make this sauce is pickled red chili. It's time-consuming to make your own fresh chili paste and pickle it to make this recipe. But thankfully there is a readily available ingredient, which is a shortcut to help you make authentic sweet chili sauce.
And that's SAMBAL OELEK! It's an Asian chili sauce made with red chili peppers and rice vinegar. I always have a bottle of it in my fridge because I use it all the time when cooking curries or stir fries.
Sambal oelek used to be a little tougher to find, unless you had easy access to an Asian grocery store, but now you can easily find them in most supermarkets. Just check the Asian food aisle in your local supermarket. There are two types of sambl oelek;
Regular chili sambal oelek that I use for this recipe and,
Chili garlic sambal oelek
For the most authentic flavor, use the regular sambal oelek. But if that's not available, you can use the garlic version too. Just make sure to cut down on the amount of garlic cloves in the recipe by half.
Soy sauce (or fish sauce)
Soy sauce or fish sauce helps to season the sauce and add another level of flavor to it. I love adding fish sauce for a more authentic Thai or Vietnamese flavor flair with a nice little umami kick too.
Rice vinegar
This adds acidity to the sauce, which is crucial for a well-balanced sweet chili sauce. Otherwise, the sweetness will overpower. You can buy unseasoned or seasoned rice vinegar. I use unseasoned rice vinegar, but if you only have seasoned rice vinegar, adjust the sweetness and salt levels to your taste.
White sugar
White sugar adds sweetness (and no other flavor). So, it'll help to enhance the garlic flavor and sambal oelek flavor.
Garlic cloves
Fresh garlic is best for this sauce. Garlic powder or dried garlic granules will not add the same flavor to this sauce. So, make sure to use fresh garlic cloves, and chop them very finely (or mince them). The floating pieces of garlic in the sauce are very characteristic of a classic sweet chili sauce.
Cayenne pepper (optional)
Cayenne pepper is absolutely optional. If, you're like me, and wish your sauce had an extra kick of spice, then don't skip the cayenne pepper. If store-bought sweet chili sauce is spicy enough for you (or even a little too spicy?), then yes, you can leave out the cayenne pepper.
Cornstarch
Cornstarch thickens the sauce without making the sauce cloudy or adding extra flavor, like flour would. It doesn't add a "sliminess" to the sauce either, like tapioca starch. While it's my preferred thickener for this sweet chili sauce recipe (since it's easy to use, cheap, and easily accessible), it might not be suitable for canning.
Recipe ingredient substitutions
Sambal oelek substitute
What if you can't find sambal oelek?
Don't you worry! I've tried different substitutions and found that you can still make this delicious sauce at home without sambal oelek. There's a subtle difference in flavor and appearance with each substitution, but in the end, you still have a very flavorful Thai sweet chili sauce!
The spiciness level from using just sambal oelek is a medium heat. Adding and/or substituting any other chili substitutes can make this sauce spicier. Following are the appropriate substitutions you can make.
Dried chili flakes
Dried chili flakes will make this sauce a tad spicier. Instead of 2 ½ tbsp to substitute the sambal oelek, I only add about 2 tbsp of dried chili flakes, and a little extra vinegar (about 1 tbsp). You may need a little extra seasoning too, but that'll be a personal preference. Do not use cayenne pepper because chili flakes are spicier than sambal oelek.
Also bear in mind that chili flakes can vary in spice levels. So, if your red pepper flakes are very spicy, adjust the amount to tolerable levels.
Fresh chili
I've made this with fresh chili too. Again, I only use about 2 tbsp of ground (or finely chopped) fresh chili. Make sure to find the red chili peppers for this sweet chili sauce recipe.
If you make this with red jalapeno, the spice level will be less, and you can use 2 tbsp of the peppers (with or without seeds – remove seeds to make it less spicy).
If you have access to Thai red chili (the small red chili), you can use even less. These peppers are spiceeeey! It'll be better to remove most of the seeds, and ONLY use the chili to make the sauce. I typically only use about 1 ½ tbsp of ground Thai red chili peppers for this Thai sweet chili sauce.
And ALWAYS remember to use gloves when handling fresh chili, especially Thai red chili peppers.
Cayenne pepper
I haven't made this sauce with ground cayenne pepper (chili powder), but you could if you wanted to.
It won't look the same as the authentic sweet chili sauce, because there won't be any flakes in the sauce, and you'll end up with a colored thick sauce with pieces of garlic suspended in it. But the flavor should be pretty good (though not as good as with sambal oelek).
Rice vinegar substitute
If you do not have rice wine vinegar, you can use,
Apple cider vinegar – this will add a fruitiness to the sauce, OR
White wine vinegar – this will also be a great substitution.
But do NOT use white vinegar. This is too harsh for sweet chili sauce.
White sugar substitute
You can use brown sugar or light brown sugar if you prefer. However, it may make the sauce a little darker in appearance, and add a molassey flavor too.
You can use honey, but it'll change the flavor significantly, so as long as you're OK with that, go for it. The sauce may require a little extra cornstarch to make it thicker as well. Adding honey will make this recipe not vegan.
If you want to use rice syrup (brown rice syrup), that's also great. I haven't made this recipe with rice syrup before, but it could change the flavor.
How to make sweet chili sauce
Step one
Make the sugar vinegar base. Cook the vinegar, water, sugar, garlic, and soy sauce in a pan. It's important to chop the garlic very finely so that it can soften faster, and will also float in the sauce. Once the sugar is dissolved, it's important to cook the base for a few minutes to soften the garlic and to evaporate the water a little more. You can reduce the water and cook the base faster, but you still need to make sure the garlic is starting to soften.
Step two
Add the sambal oelek. The sambal oelek adds the crucial chili flavor of sweet chili sauce. Stir and cook until the sauce boils and thickens slightly. This is because more water evaporates during the cooking process. The sauce should be slightly thickened at this stage, and the garlic should be cooked through and softened as well.
Step three
Add cornstarch to thicken the sauce to the correct consistency. Mix the cornstarch and water in a separate bowl to create a cornstarch slurry that will easily mix in with the sauce.
If you add cornstarch straight into the hot sauce, it will not dissolve and will form cooked clumps of cornstarch instead. So, it's very important to create a slurry first. Add this slurry to the sauce and mix it well and continuously.
Step four
Frequently stir to prevent the sauce from catching at the bottom of the pot. If the sauce thickens unevenly, the sauce at the bottom will thicken too much and burn.
It's important that the sauce is stirred well for about 45 – 60 seconds after it boils (once the cornstarch is added and mixed through).
The cornstarch will only activate if it's boiled, so stirring while the sauce is boiling will ensure that the sauce is heating and thickening evenly.
Step five
Pour the sauce into jars, and let it cool. Use as you wish, any way you like!
Also check out my recipe video below to learn how to make sweet chili sauce with ease!
Adjustments for canning this sweet chili sauce
I'm not a canning expert to be able to tell you HOW to can it, since I don't can stuff too often. I've had many readers ask me this question and I've had many more readers tell me that they have canned their sweet chili sauce with success, with a few substitutions.
Personally, I follow a water bath method to can jars for this sweet chili sauce recipe.
The one obstacle for canning this sauce is the use of cornstarch to thicken the sauce here. Since recipes using cornstarch or cornflour are not recommended for canning, you will need to substitute the cornstarch if you're planning on canning it.
Cornstarch can create lumps in the sauce during the canning process which can interfere with the canning process itself AND the final outcome.
There are TWO options for those of you who want to can this sweet chili sauce.
Can the sauce WITHOUT the cornstarch, and then thicken the sauce later, before you use it.
Or substitute the cornstarch with Clear Jel (my recommended option).
Using Clear Jel for canning sweet chili sauce
You can use Clear Jel for this recipe and get great results! Make sure to use the cook type clear jel and NOT the instant type.
I've found that I have to use just a little extra Clear Jel than cornstarch to thicken this sweet chili sauce. For every 3 tsp of cornstarch (1 tbsp), I use 4 tsp Clear Jel (1 tbsp + 1 tsp).
Since Clear Jel is a modified cornstarch, it should be gluten free. But check with the manufacturer to be sure.
The Clear Jel will be dissolved in water and added at the same time as the cornstarch (Step three above under how to make sweet chili sauce). However, you cannot boil the ClearJel for too long, and you must stop the cooking process as soon as it starts to boil. The sauce will thicken as it cools.
Then the sauce can be poured into sterilized jars, and canned according to your preferred method.
How to use sweet chili sauce
Oh boy! There are so many imaginative ways to use this sauce.
There's a reason why sweet chili sauce is such a popular condiment. It's a great dipping sauce for pretty much any appetizer or snack.
Steaming hot spring rolls, egg rolls, fried chicken, grilled chicken, chicken wings, chicken nuggets, crab rangoon, wanton, fried calamari, cheesy toast… the list goes on and on. This sweet chili sauce dip is the faithful sidekick for any party platter or appetizer. 
Here are some delicious recipe that will pair beautifully with this sweet chili sauce.
Caramelized apple and fennel pork sausage rolls
Szechuan salt and pepper shrimp (salt and pepper prawns)
Spicy Thai basil chicken kebabs
Lemongrass and wasabi chicken nuggets, and there's so much more!
You could also use this sauce as a glaze. Sweet chili chicken is a popular recipe that uses this Thai sweet chili sauce as a glaze.
You could even use it as a salad dressing. You could adapt this recipe to make a sweet chili salad dressing or sweet chili vinaigrette.
Also works as a sweet chili marinade sauce for grilling and BBQ meat.
Storage instructions
Once you've made this homemade sweet chili sauce, you can store it in the fridge for a couple of weeks. The high sugar content helps the sweet chili sauce last longer, but make sure you're not contaminating it with other food particles.
I prefer to sterilize my jars (in boiling water, or the oven), and then add the hot sauce to the containers. This way I know that they should last a while (although, a batch never lasts too long because we use it on everything!).
Is there a good sweet chili sauce substitute?
Honestly, no, there isn't really a substitute for this one of a kind sauce. You could mix some sriracha with honey for a sweet and spicy substitute, but that's just not the same.
But the good news is that this sweet chili sauce recipe can be made in just 10 minutes (or less), and it's ready to be enjoyed as soon as it cools down. Plus, with all the substitutions available, you can readily make this sweet chili sauce with what you have in your pantry.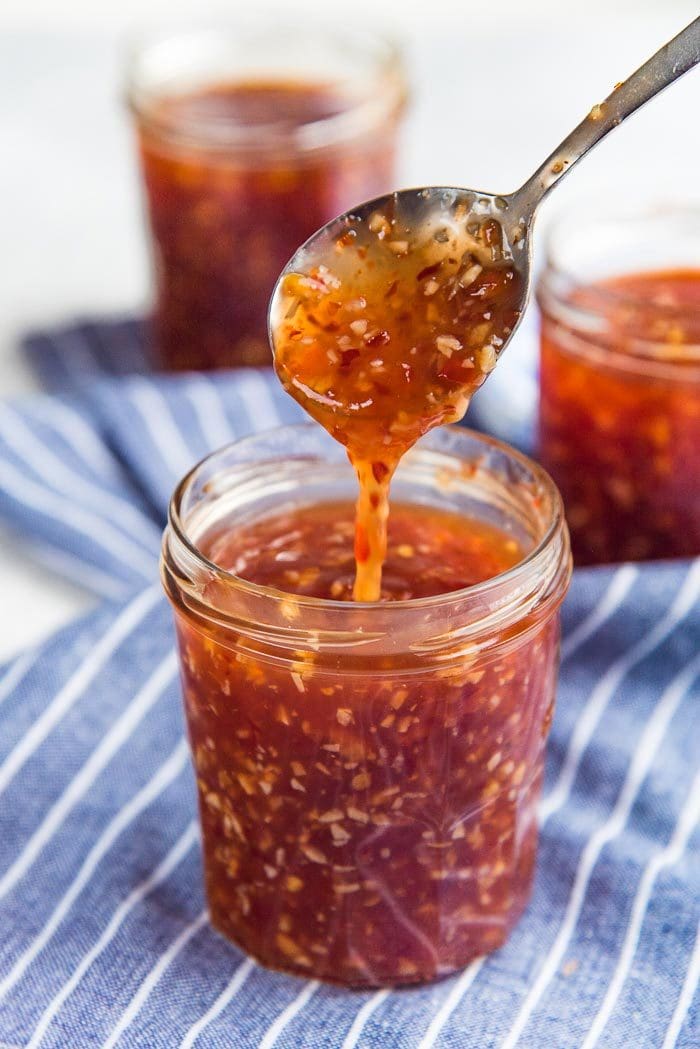 Can I make gluten free sweet chili sauce?
The only ingredient with gluten in this sweet chili sauce recipe is soy sauce. You can easily substitute the soy sauce with gluten free tamari sauce to make gluten free sweet chili sauce.
Using soy sauce or tamari sauce will still make sure this recipe is vegan as well. Alternatively, you can leave out the soy sauce and just season it with more salt.
I have also recommended using fish sauce instead of soy sauce for the more authentic Thai/Vietnamese flavor (Nam Chim Kai). Nuoc mam (Vietnamese fish sauce) and Nam pla (Thai fish sauce) are naturally gluten free, but not vegan.
Can I make vegan sweet chili sauce?
Yes, you can.
While fish sauce does make the taste more authentic, you can leave out the fish sauce if you like. Just substitute it with soy sauce or tamari sauce (gluten free) or salt, to make this sweet chili sauce vegan.
I can say with plenty of conviction that this really is the BEST sweet chili sauce you can make at home! While the most authentic Thai sweet chili sauce recipe requires that one special shortcut ingredient (sambal oelek), you can make it without sambal oelek too, as I've shown you guys here.
This homemade Thai sweet chili sauce makes for a great edible gift during the holidays as well. And now that you know how to make the recipe safe for canning, you can make the sauce last longer too.
This is definitely a recipe that you should add to your repertoire. It's one of the most versatile and useful homemade sauces you can make. Imagine telling your friends that wicked sweet chili sauce is all homemade?
Equipment and tools I use for this recipe
Looking for more recipes?Sign up for my free recipe newsletter to get new recipes in your inbox each week! Find me sharing more inspiration on Pinterest and Instagram.
Spicy Sweet Chili Sauce
Yield:
Make about

1 ½

cups
The Best Sweet Chili Sauce Recipe! Easy to make, easy to adapt, and most importantly, absolutely delicious! Learn how to make this versatile, authentic Asian sweet chili sauce with step by step instructions. Great for canning too. 
EASY – Great recipe for beginners. Simple and quick recipe.
Makes about

1 ½

cups.
US based cup, teaspoon, tablespoon measurements.
Common Measurement Conversions
Ingredients:
½

cup

rice vinegar

unseasonsed

3/4

cup

water

4

oz

white sugar

(1/2 cup + 2 tbsp)

5

garlic cloves

finely chopped

1

tbsp

soy sauce

gluten free soy sauce or salt if you'd like to keep the recipe gluten free or soy free, OR 1/2 tbsp fish sauce

1/2

tsp

cayenne pepper

optional – halve it or leave it out if you like it less spicy

2.8

oz

sambal oelek

a generous 2 1/2 tbsp (please see recipe notes)

4

tsp

cornflour / cornstarch

(see recipe notes)

2

tbsp

water
Instructions:
Add the vinegar, water, sugar, garlic cloves, soy sauce, and cayenne pepper (if using) in to a non-stick pan. If you're using dried chili flakes (red pepper flakes) instead of sambal oelek, add it to the pan at the same time. 

½ cup rice vinegar,

3/4 cup water,

4 oz white sugar,

5 garlic cloves,

1 tbsp soy sauce,

1/2 tsp cayenne pepper

Heat over medium heat while stirring to dissolve the sugar. Increase the heat to medium-high and bring it to a boil. Let it simmer for about 2 minutes. 

Add the sambal oelek and mix through. Let it cook for a few minutes until it's slightly thickened (2- 5 minutes).

Mix the cornstarch and water into a smooth slurry and add this to the sauce as well.

4 tsp cornflour / cornstarch,

2 tbsp water

While stirring frequently (to prevent the sauce from burning at the bottom), simmer the sauce for a further 2 – 5 minutes or until it reaches the desired thickness. Remember, the sauce thickens as it cools as well. If it thickens too much, add a little extra water to thin it out. If you're using Clear Jel (for canning purposes), the sauce will mostly thicken only as it cools down. 

Pour into glass jars with air-tight lids (OR heated and sterilized jars to store for longer).

Cool to room temperature and store in the fridge.
Tips & Tricks
Sambal oelek substitutions
2 tbsp dried chili flakes + 1 tbsp extra rice wine vinegar (reduce the amount of chili flakes if the chili flakes you use are spicy (they'll be spicier than sambal oelek).
Finely chopped red chili (red jalapeno or Thai red chili – please read the blog post for details).
Cornstarch substitution (for canning)
Use

5 ½

tsp of Clear Jel, dissolved in 3 tbsp water.
Please read the blog post for more ideas on substitutions for other ingredients, and for more cooking tips.
Nutrition Information:
Serving:
1
tbsp
Calories:
18
kcal
(1%)
Carbohydrates:
4
g
(1%)
Sodium:
32
mg
(1%)
Potassium:
12
mg
Sugar:
3
g
(3%)
Vitamin A:
15
IU
Vitamin C:
0.6
mg
(1%)
Calcium:
1
mg
"This website provides approximate nutrition information for convenience and as a courtesy only. Nutrition data is gathered primarily from the USDA Food Composition Database, whenever available, or otherwise other online calculators."