Isn't it amazing how certain types of food are featured in nearly every food culture in the world, often with their own unique and distinct flair? Kind of like a representation of humans in general. We are all so uniquely different, but strip away those toppings, dressings and flavourings and we are all the freaking same. An empanada by any other name may not taste the same, but they all have the same idea. And think about croquettes? How many different versions of those do we have out there? What about meatballs? Whether it's beef, pork, chicken or vegetarian "meatballs", we all have a favourite, sometimes more than one.
Today I'm putting my own little spin on meatballs with these Sri Lankan Curry Chicken Meatballs and serving them in a Sandwich with Sweet and Spicy Mango Chutney and a side of thin fries!
This is how I comfort food.
So here I took the classic meatball sandwich and gave it a juicy, flavourful twist with these curry chicken meatballs that were cooked in a delicious, spicy sauce. (You can also check out my recipe for Sri Lankan meatball curry, cooked in an authentic curry sauce!)
Growing up, my family didn't eat beef. So chicken meatballs (the frozen kind) were the preferred kind, our go-to snack as kids. They came in these little packages with a small sachet of spice mix already in them, and all we had to do was add water or coconut milk and cook them for a pretty awesome meatball curry. I've been craving for them recently and that got me making these meatballs at home from scratch. I made these in a tomato based spiced sauce and usually I love eating these with steamed rice. A few of my other favourite variations are these Indonesian beef meatballs, cocktail meatballs!, and this cheesy meatball skillet!
But this time, I stuffed these bad boys in homemade hot dog buns and made a killer chicken meatball sub!
I also paired them with thin potato fries. I know, I know, there's nothing green in these pictures and the thin potato fries do not help my cause there either, but this meal was the result of one of those days where it was either comfort food or nothing at all. A salad would obviously be a healthier choice for a side dish (if you decide to take that route), but these delightful thin potato fries have a special place in my memories from childhood. My dad's nanny, who stayed with our family even after I was born (right up until my grandmother passed away, actually) used to make potato fries this way, and I loved 'em! They are crunchy and insanely delicious and I could snack on them all day long! I still think of her every time I make them or eat anything similar.
This recipe makes about 22 meatballs that are about 2 inches in diameter, and if you use homemade hot dogs buns, that will fill 7 sandwiches plus 1 extra meatball for you to eat (the rest of the family don't need to know). But of course, you can use whatever kind of bread roll you prefer. 🙂
These meatballs are seriously fantastic! I used a combination of both white and dark meat to make these, because I love the texture of chicken breast, but I also love chicken thighs because they stay nice and juicy. So a 50-50 mix of each ensured that I had bite-sized chicken meatballs that were the perfect combo of juicy and delicious and had perfect texture and flavour. The addition of lightly caramelized onions also increased the flavour! They bring an additional layer of sweetness and since they are already cooked, they mix and blend easily with the chicken.
The result is flavour-laden curry chicken meatballs that you'd be tempted to eat, all on their own, till they are all gone!
Looking for more recipes?Sign up for my free recipe newsletter to get new recipes in your inbox each week! Find me sharing more inspiration on Pinterest and Instagram.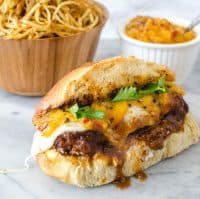 Curry Chicken Meatball Sandwich
Ingredients:
Chicken Meatballs
12

oz

skinless

boneless chicken thighs

12

oz

chicken breast

skinless, boneless

1

tsp

cayenne pepper

1

tsp

pepper

200

g

onion chopped and caramelized

1

tsp

curry powder

½

tsp

salt

6

tbsp

bread crumbs

1

egg yolk
Chicken Meatball Curry
100

g

onions

minced or chopped finely

3

cloves

garlic minced

1

cm

ginger grated

½

tsp

cayenne

1

tsp

pepper

½

tsp

salt

1

tsp

curry powder

1/2

tsp

cumin powder

1/2

tsp

coriander powder

½

tsp

cinnamon powder

½

cup

ketchup

2

tbsp

sugar

¾

cup

chicken stock or water
For the Meatball Sandwich (per sandwich)
1

bread roll or homemade hot dog bun

3-4

chicken meatballs and sauce

depending on the length of the bun

2

slices

of Provolone cheese

2

heaped teaspoons of Sweet and Spicy mango chutney

better if the chutney is cold

Cilantro

optional
Instructions:
Chicken Meatballs
Cut the chicken pieces into cubes and place them in the food processor and process until you have minced them. Add the caramelized onions and spices and salt, and pulse for a few seconds until everything is mixed through.

Transfer this chicken into a bowl and mix in the bread crumbs and the yolks using your hands. Make sure everything is mixed well.

Using a small scoop (like the one you'd use for cookies), separate the chicken into small portions. Using slightly wet hands, roll them into smooth balls and place them in a non stick tray or container until you are ready to brown them.

In a non stick pan, heat a couple of tablespoons of oil over medium high heat and fry the meatballs in batches until they are brown all over (not cooked through). Place them aside.
For the curry
Heat a couple of tablespoons of oil in a saucepan over medium heat. Place the onions, garlic and ginger and mix well.

When the onions start to turn translucent, add the cayenne pepper, black pepper, cumin, coriander, cinnamon, curry powder and salt. Saute for about 30 seconds just to roast the curry powder. Add the ketchup (tomato sauce), sugar and chicken stock (water) and mix well.

Add the meatballs at this stage and gently mix them with the curry sauce. Bring the curry to a simmer and cook the chicken meatballs for about 10 minutes. Leave them to cool slightly.

These meatballs will taste better the next day. Can be easily frozen at this stage as well.
To Assemble Meatball sandwiches
Preheat the oven to 350°F/ 180°C.

Cut the buns along the side but not all the way through. Butter the insides of the bun.

Place the chicken meatballs along with some of the sauce inside the bun, and then two slices of provolone cheese on top of the meatballs.

Place the buns on a baking tray and transfer them to the oven to toast the bread and melt the cheese.

Once the cheese has melted, remove the sandwiches from the oven, and when they are cool enough to handle, spoon some Mango Chutney over the melted cheese.

Top with some Cilantro and serve.
"This website provides approximate nutrition information for convenience and as a courtesy only. Nutrition data is gathered primarily from the USDA Food Composition Database, whenever available, or otherwise other online calculators."
Let me tell you, this curry chicken meatball sandwich is the real deal! Imagine, homemade hot dog buns, perfectly crusty on the outside and oh-so-soft on the inside, stuffed with curry chicken meatballs, cooked in a spiced tomato based sauce, topped with melted provolone cheese and a cold, sweet, spicy mango chutney… with a side of crunchy potato fries… And meatball juices and sauce running down your hands as you bite into your sandwich and take big, happy mouthfuls… And a cold beer to wash it all down afterwards. If this was my last meal, I wouldn't be complaining.
Do you know all the different types of meatballs in the world? I only know of a few, but here's an article with lots more. It's pretty fascinating and makes me realize how much more there is to discover about food!
Which ones have you tried? 🙂
If you liked this recipe don't forget to subscribe for new (and free) recipes and updates by entering your email address below (and get all these recipes delivered straight to your inbox), so you don't miss out on a thing. You can find me on FACEBOOK, TWITTER, INSTAGRAM, PINTEREST and GOOGLE-PLUS too.