A simple yet spectacular twist on a classic margarita – this Smoked Margarita Sour is made with cherry wood smoked tequila, while that gorgeous cocktail foam on top is made with aquafaba (chickpea water), which makes this margarita sour cocktail vegan as well!
This is one of my favorite twists on a classic margarita! All the flavor of a kick ass margarita elevated to a whole new dimension – a Smoked Margarita Sour!
The magical, yet simple addition that makes this one impressive margarita is actual smoke, which creates a smoke infused smokey tequila, along with smoked salt! Another twist that I added to this smoked margarita sour is the foamy top, a key feature of a pisco sour.
The classic way of incorporating foam into a cocktail is with the use of egg whites. Plus, with the advent of molecular gastronomy, foam cocktails have become even more prevalent and popular.
This smoked margarita sour however, does NOT use egg whites or molecular gastronomy to create a super light foamy layer – instead I used AQUAFABA! Yep, I added chickpea water to create the foam in this margarita sour! 🙂
What's the difference between using aquafaba vs egg whites to create the foam in sour cocktails?
Using aquafaba makes the cocktail vegan! So if you don't like egg whites in your cocktail, or want to make it vegan, aquafaba is a great alternative for anything from a pisco sour, to an old fashioned sour or any type of cocktail that uses egg whites to create a layer of foam on top.
It's easy to find and simple to incorporate. Chickpea cans are easy to find in any grocery store or supermarket. Plus, the chickpea water (aquafaba) is something that usually gets discarded. Aquafaba is now widely used for recipes that call for whipped egg whites because of its ability to foam up when whisked.
It doesn't affect the taste of the cocktail! This is either a pro or a con depending on your preference. Egg whites DO change the mouthfeel of the cocktail, making it creamier. Aquafaba does make the cocktail just a tad creamy, or more accurately "smoother" to drink, but certainly not to the extent that egg whites do.
This also means that you could make my sparkling blueberry sour completely vegan as well, using aquafaba.
The most important park of this cocktail however is the smoked tequila! Infusing smoked flavor into your tequila really couldn't be easier. I chose cherry wood because a fruity wood has a more subtle, and slightly sweeter and fruity smokiness.
The flavor profile of cherry wood (or any fruit wood) pairs perfectly with tequila and margaritas because it doesn't overpower the flavor of tequila. I also tried hickory wood, and that was too overwhelming for this cocktail. So go ahead and try smoking your tequila, it's a simple yet super impressive way to elevate your margaritas! 🙂
So how do I make smoked tequila?
There are three ways in which you can make cold smoke for smoked tequila.
A portable smoke gun – this is definitely the easiest way.
These days you can buy a fairly good smoke gun for less than $30, and you can use it to smoke a lot more than just tequila! To smoke tequila using a portable smoke gun,
Place the required amount of tequila in a glass bottle. I usually only smoke 1/2 cup at a time if I'm only making it for the two of us.
Use the portable smoke gun instructions to create the smoke.
Fill the glass bottle or container with the smoke and immediately enclose it (with a lid) to trap the smoke inside.
Gently shake or swirl the tequila. Infuse the tequila with the smoke for 10 – 15 minutes (or longer for an even stronger smokey flavor). If needed, fill the bottle with smoke again.
Open the glass bottle and release the smoke after infusing your tequila.
A makeshift smoker – if you'd like to DIY, you can definitely make your own COLD SMOKER!
Here's a video tutorial that I love which uses an old coffee maker to make a DIY cold smoker. I have not made this myself, but I think it's very clever!
Place the tequila in a glass jar and keep it in the plastic box that you'll be filling with smoke. Let the smoke infuse the tequila for about 10 minutes.
Remove the glass jar with tequila and swirl it after the first 10 minutes, and return it to the smoke box (DIY cold smoker) for a further 5 minutes if needed.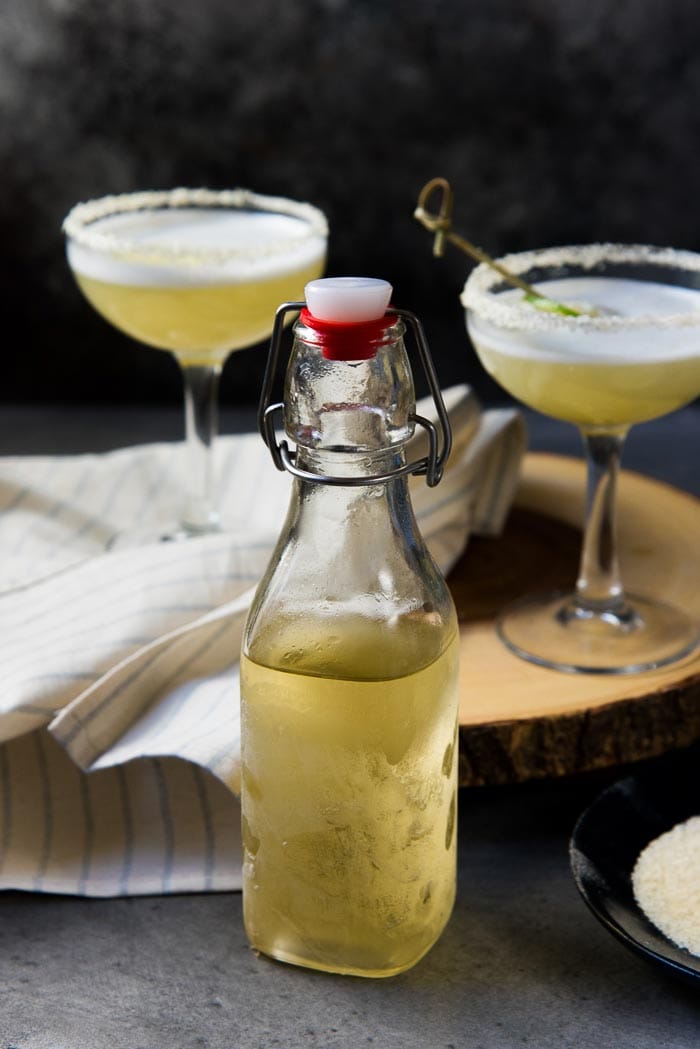 The third way requires for you to buy bigger wood chips (compared to the smaller ones that I use), and a glass bottle with a stopper.
This is an easy technique, but only recommended for smaller quantities of spirits.
Light up the piece of wood/wood chips, until embers and smoke are formed (without fire).
Hold the EMPTY bottle upside down over the smoke to completely fill it with the smoke. Immediately close the bottle with the stopper.
Carefully remove the stopper, and quickly pour in the tequila (or any other kind of spirit). Quickly close it back the stopper. Only add about 1/2 – 3/4 cup tequila into a 750 mL bottle.
Shake the tequila in the bottle for a few minutes and let it infuse for about 15 minutes. Shake the bottle again, and release the excess smoke.
Smoked margaritas are a great way to impress your guests and upgrade your cocktails! Smoked margaritas made with smoked tequila are great for BBQs too. This smokey margarita is also different and better than "grilled"margaritas. If you grill your fruits indoors to make "grilled" margaritas, the smokey flavor comes from the grilled fruit, i.e. caramelized citrus. This simply caramelizes the sugar in fruits, which lends a burnt flavor, more than a subtle smokey flavor. So that isn't a true smoked margarita.
However, if you grill your fruits outdoors on a BBQ, this will impart the smokiness of wood chips and that desirable smokey flavor to your smoked margarita. But I wanted to create a more convenient, weather and season-friendly way to make perfect smoked margaritas, and this recipe ticks all the boxes! 🙂
If you liked this smoked margarita sour recipe (with smoked tequila), don't forget to subscribe for new (and free) recipes by entering your email address on the side bar (and get all these recipes delivered straight to your inbox), so you don't miss out on a thing. You can find me on FACEBOOK, TWITTER,INSTAGRAM, PINTEREST, YOU TUBE and GOOGLE-PLUS too.
Looking for more recipes?Sign up for my free recipe newsletter to get new recipes in your inbox each week! Find me sharing more inspiration on Pinterest and Instagram.
Smoked Margarita Sour
Smoked Margarita Sour - a simple yet spectacular twist on a classic margarita, made with cherry wood smoked tequila, while the cocktail foam is created with aquafaba (chickpea water), which makes this margarita sour cocktail vegan as well!
Ingredients:
Smoked Tequila
4

fl oz

silver tequila

1

tsp

cherry wood chips

or apple wood chips (any fruit wood chips will work)

smoke gun
For the glasses and garnish
2

coupe glasses

Smoked sea salt for the rim

wedge of lime for the rim

Slices

of lime to garnish
Smoked Margarita Sour
4

fl oz

cherry wood smoked silver tequila

2

fl oz

cointreau or triple sec

2

fl oz

lime juice

freshly squeezed

1

fl oz

agave syrup

1

fl oz

aquafaba

(chickpea water) OR

1

fl oz

egg white

(instead of the aquafaba)

Ice cubes
Instructions:
Smoked Tequila
Place the tequila in a large glass bottle, with plenty of room for the smoke. A decanter with a plug-in cap should work perfectly well.

Place the wood chips in the smoke gun receptor (please read your smoke gun instructions to find out the right way to use it). Insert the pipe from the smoke gun into the bottle.

Activate/light the wood chips to create smoke, and fill the bottle with the cherry wood smoke.

Quickly close the bottle while it's full of smoke, without letting any of the smoke escape. Turn off the smoke gun.

Shake (or rock) the bottle gently a few times, and then allow the smoke to infuse the tequila for about 15 minutes. The color of the tequila will change into a very light yellow. Release the smoke in the bottle and store the tequila until needed.

This recipe CAN BE DOUBLED OR TRIPLED. You may need to smoke it for longer if you're using larger quantities of tequila.
For the glass and garnishes
Rub the lime wedge along the rim of both serving coupe glasses. Dip the rim in the smoked salt. Set aside.
Smoked Margarita Sour
Place all the ingredients (except for the ice) in a cocktail shaker. Use either aquafaba (for a vegan alternative) or egg whites, but do not use both.

Shake the cocktail vigorously for at least 10 seconds or longer for a dry shake, to foam up the aquafaba/egg white.

Add the ice and shake the cocktail for just a few seconds to chill the drink.

Pour the margarita into the coupe glasses and garnish with a slice of lime. You can either let the lime slice float on the margarita foam, or you can place a threaded lime slice on a cocktail pick, in your cocktail.
Nutrition Information:
Calories:
189
kcal
(9%)
Carbohydrates:
13
g
(4%)
Protein:
1
g
(2%)
Sodium:
26
mg
(1%)
Potassium:
60
mg
(2%)
Sugar:
10
g
(11%)
Vitamin C:
9.2
mg
(11%)
"This website provides approximate nutrition information for convenience and as a courtesy only. Nutrition data is gathered primarily from the USDA Food Composition Database, whenever available, or otherwise other online calculators."
LOVE TEQUILA? Check out these Tequila Cocktails!
Frozen Mango Margarita with Tajin
Pink peppercorn and Pineapple Shandy
Magical Galaxy Color Changing Margarita