Espresso Shortbread Cookies that are buttery and crumbly with a bold, bittersweet coffee flavor – these cookies are a TREAT! Classic shortbread cookies made with instant coffee (or instant espresso) powder, and dipped in chocolate.
 Espresso shortbread cookies are great for snacking and gift-giving!
First published: 03/2015. Updated: 06/2019
I am a sucker for anything coffee. There are very few things in the world that I care to be snobbish about, and coffee is one of them. I'd rather skip coffee than subject myself to a horrid cup of joe.
But with these cookies… my sweet tooth and my coffee tooth are plenty satisfied! Buttery, crumbly, delicious, and perfectly bittersweet with a no-holds-barred coffee flavor, these Espresso Shortbread Cookies deliver on their promise!
Plain shortbread cookies or espresso shortbread cookies?
If you like shortbread cookies and if you like coffee, then these chocolate dipped espresso shortbread cookies are a MUST try! These cookies aren't pretending when it comes to the coffee flavor either. Have them plain, or dip them in chocolate – either way, these coffee shortbread cookies are a treat.
A few month ago, I shared my classic recipe for making easy shortbread cookies with plenty of tips to perfect these light, crumbly, buttery cookies. So today, I'm going to show you how to adapt that shortbread cookie recipe to make these espresso shortbread cookies.
Brewed coffee or instant coffee?
Since shortbread cookies are made with butter, sugar and flour, I wanted to minimize the addition of extra liquid, since that can interfere with the cookie texture. So to keep it simple, I used instant coffee (or instant espresso). In place of the vanilla extract, instant coffee is dissolved in a small amount of water and then added to the butter and sugar mix.
But I also add EXTRA instant coffee granules along with the flour, because I want a robust coffee flavor for these espresso shortbread cookies. This also results in little specks of coffee in the shortbread cookies, which don't hurt in terms of looks and flavor either! 🙂
How to choose ingredients for shortbread cookies
Check out my classic shortbread cookies post to find out why it's important to use good quality ingredients to make great tasting shortbread cookies.
The main flavor comes from the butter, so it goes without saying that you need good quality butter. I also prefer to use unsalted butter, because the flavor is better, and I can also adjust the amount of salt to my liking then. If you have European butter, then that's the best kind to use. But any good quality supermarket brand works too.
For sugar, I use a good quality white cane sugar for these chocolate dipped espresso shortbread cookies. If you like the flavor of brown sugar, you can use 1/2 brown sugar and 1/2 white sugar as well. I prefer using a fine white sugar (like caster sugar), since it'll dissolve more readily in the butter.
How to make espresso shortbread cookies
First step is to dissolve the instant coffee in the smallest amount of water. This espresso extract is quite bitter, so don't be tempted to taste it!
Secondly, cream the butter, sugar and the espresso extract. It's important to make sure the butter and sugar mix is really creamy, and that the sugar is mostly dissolved. This shouldn't take more than 2 minutes in a stand mixer.
Once the butter and sugar are creamed well, the flour can be added. I also like to add an extra teaspoon of instant coffee at this point. This is optional however.
Make sure to form a dough without over-mixing the flour. The more you mix, the more gluten will develop, making the cookies less crumbly, and more chewy. Not good.
Tips for making perfect espresso shortbread cookies
After you make the shortbread cookie dough, you need to let it chill and rest a little before rolling it out. This is because the dough at room temperature is too soft and difficult to roll out, and won't hold its shape.
Here's where this clever method to roll out the cookie dough comes in handy.
Place the cookie dough in a 1 gallon ziploc bag (12 x 12 inches), and roll the dough to an even thickness while it's inside the ziploc bag. It's important to make sure it's rolled out to an even thickness of about 3/8 inch. I prefer my espresso shortbread cookies to be a little thinner than regular shortbread cookies.
Once the dough is rolled out inside the ziploc bags, carefully place the bags on a FLAT SURFACE (like a cookie sheet or a sheet pan). Keep it in the fridge to completely chill the dough. You can even leave it overnight as well.
Finally, when you're ready to bake the cookies when the dough is chilled. Carefully cut the plastic bag to remove the chilled, rolled out dough. Then it can be cut into shapes and baked.
Make sure the cookies are nice and chilled before baking, because this will prevent the cookies from spreading as they bake. 
To dip or not to dip?
If chocolate dipped shortbread cookies are that much more fun than regular shortbread cookies, same goes for chocolate dipped espresso shortbread cookies!
You can use either white chocolate or milk chocolate for a sweeter option, or bittersweet chocolate, which is my personal preference.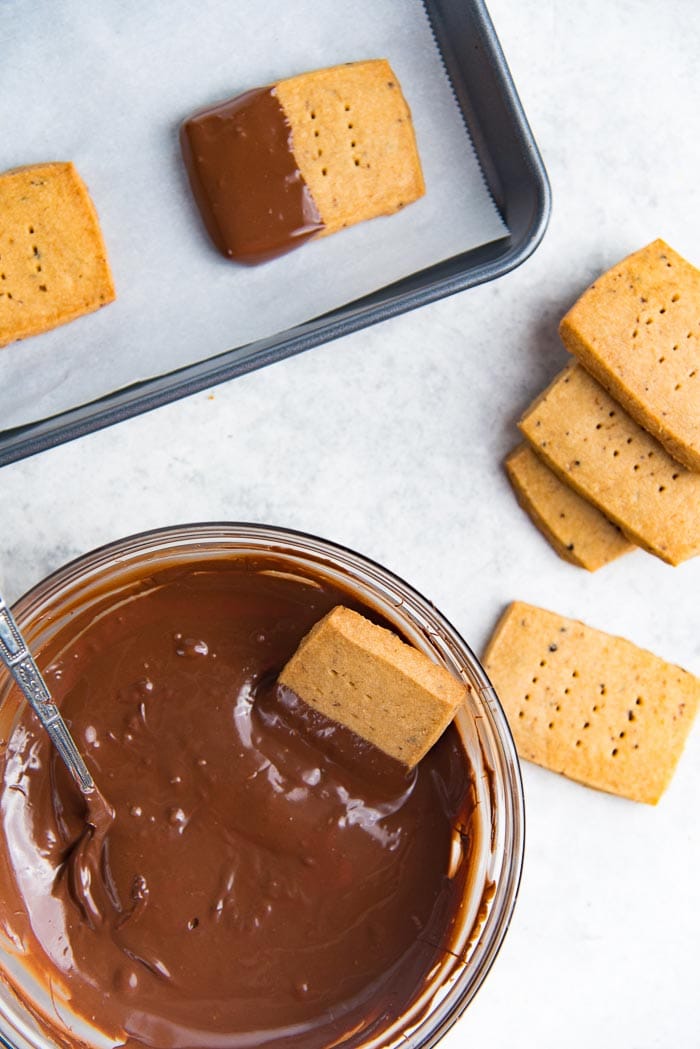 How to serve espresso shortbread cookies?
With a cup of coffee, of course! 🙂 Or a glass of milk! These are perfect as a snack, and for gift-giving too! I actually made a big batch of these last Christmas and gave them out to my neighbors. Nothing like a delicious plate of buttery, crumbly, shortbread cookies to charm a grumpy neighbor.
If you liked this espresso shortbread cookies (chocolate dipped espresso shortbread cookies) recipe, don't forget to subscribe for new (and free) recipes by entering your email address in the subscription box below the recipe card (and get all these recipes delivered straight to your inbox), so you don't miss out on a thing. You can find me on FACEBOOK, TWITTER, INSTAGRAM, PINTEREST, and YOUTUBE too.
Other recipes you may like, 
Mocha Frappuccino/ Coffee Slushie
Other cookie recipes you should try
Easy Shortbread Cookies (The basic shortbread cookie recipe for beginners)
Juniper berry chocolate hazelnut cookies
Chocolate Chip & Cranberry shortbread cookies
EQUIPMENT I USED FOR THIS RECIPE
Stand mixer or Hand mixer  – I use a KitchenAid stand mixer, and also have a kitchen aid hand mixer.
2 x Sheet pans – You can chill one batch, while the other is in the oven. Ensuring better results without wasting time between batches. I love this Nordic Ware pans or these USA Pans.
Sharp knife and Fork  – to cut and dock the cookies.
Gallon ziploc (10 inch x 10 inch) – It's easy to roll out the dough inside ziploc bags.
Rolling Pin – A heavy rolling pin to ensure even thickness when rolling out dough.
Heat proof bowl – to melt chocolate
Looking for more recipes?Sign up for my free recipe newsletter to get new recipes in your inbox each week! Find me sharing more inspiration on Pinterest and Instagram.
Espresso shortbread cookies
Cuisine:
American, British
Total Time:
1

day
1

hour
45

minutes
What You Need:
Stand mixer or Hand mixer

2 x Sheet pans

Parchment paper

Sharp knife and Fork

Gallon zip loc (10 x 10 inch)

Rolling Pin

Heat proof bowl
Ingredients:
226

g

unsalted butter

1 cup, softened

Generous pinch of sea salt

115

g

caster sugar

½ cup + 1 tbsp

2

tsp

instant coffee

2

tsp

hot water

284

g

AP flour

2 ⅓ cup , spoon and leveled

57

g

cornstarch or rice flour

5 ½ tbsp, spooned and leveled

1

tsp

instant coffee

226

g

semisweet or bittersweet chocolate

chopped or chips (optional)
Instructions:
Espresso Shortbread Cookies
Dissolve the 2 tsp of instant coffee in the 2 tsp of hot water to make the coffee extract.

Place the 226 g butter and generous pinch of salt in the mixer bowl, and mix on medium speed until creamy (using a paddle beater - about 2 to 4 minutes). You can use a stand mixer or a hand-held mixer as well.

Add the 115 g caster sugar and instant coffee extract, and mix until the sugar and butter are well mixed, and the mix is creamy - about 1 to 2 minutes.

Add the 284 g AP flour and 57 g cornstarch (if using) and mix on LOW (or the stir setting), until the flour is mixed in with the butter-sugar mix, and the dough forms clumps. Do NOT over-mix, as this can make the cookies tough and chewy. Add the 1 tsp instant coffee and stir it into the clumps of dough.

Using floured hands OR a spatula - bring the dough clumps together to form a cohesive dough (fold over the dough 2 - 3 times to help bring it together). Then flatten the dough into a disc shape.

Place the dough disc in a gallon-size ziploc bag (about 10 x 10 inches in size), on a flat, smooth surface. Without closing the bag, gently roll the dough using a rolling pin, maintaining an even thickness throughout the dough. Press/roll the dough into the bottom edge of the ziploc bag, and form a roughly 10 x 10 inch square (about ⅜ of an inch thick). Keep the bag open while you do this to allow excess air to escape and prevent air bubbles from forming. This will help you easily roll out the dough to an even thickness.

Once the dough is rolled out, seal the bag, and carefully place it on a sheet pan. Then transfer this to the fridge to chill for about 30 - 60 minutes, or until the dough is firm enough to cut through.

When you're ready to bake the espresso shortbread cookies, line a half sheet pan with parchment paper and preheat the oven to 350 °F/180°C.

Once the oven is preheated, carefully remove the dough disc from the ziploc bag (you may need to cut the bag to remove the dough disc). Place the dough on a parchment paper on a smooth surface, and trim the edges of the dough using a sharp knife.

Cut the dough into 20 (4 x 5) equal pieces. Pierce each piece of cookie with a fork 3 - 4 times (see pictures in the post).

Place the chilled pieces of espresso shortbread cookies on the parchment paper, with about 1 in of space between each. You may need to use two half sheet pans.

Make sure the cookies are still stiff and chilled when you put them in the oven. (If they have softened, then return the pan to the fridge and refrigerate for about 30 minutes until the cookies are completely chilled.) You can also leave the cookies in the fridge overnight at this point.

Bake the cookies in the center of the oven, for about 15 - 20 minutes, or just until the bottom edges of the cookies are starting to color. Make sure to check on the cookies every few minutes.

Remove from the oven and allow the cookies to cool. If you're baking both sheet pans at the same time, make sure to switch the sheet pans (between the two oven shelves) halfway through.

Allow the cookies to cool down for a few minutes and then transfer them onto a wire rack to let them cool down completely.
Chocolate dipped espresso shortbread cookies (optional)
Place a parchment paper-lined sheet pan in the freezer for about 30 minutes.

Place the 226 g of chopped bittersweet chocolate in a heat-proof bowl. Melt the chocolate over a double boiler, until most of the chocolate is melted, but some clumps of chocolate still remain.

Remove the bowl from the heat and stir gently until all the chocolate has melted.

Remove the chilled sheet pan from the freezer.

Dip half of each cookie in the melted chocolate. Gently shake the cookie to remove excess chocolate. Place the dipped cookie on the lined and chilled sheet pan. This helps set the chocolate faster. (You do not have to put the chilled sheet pan back in the freezer.)

Once the chocolate is set, remove the cookies from the chilled sheet pan, and store in an air-tight container.
Tips & Tricks
If you don't have cornstarch, then replace that amount (57 g / 2 oz) with an equal amount of AP flour.
The cookies will last about 1 week at room temperature. They will last longer in the freezer, but allow them to completely thaw before eating.
Nutrition Information:
Serving:
1
cookie
Calories:
127
kcal
(6%)
Carbohydrates:
19
g
(6%)
Protein:
2
g
(4%)
Fat:
5
g
(8%)
Saturated Fat:
3
g
(19%)
Cholesterol:
12
mg
(4%)
Sodium:
1
mg
Potassium:
20
mg
(1%)
Fiber:
1
g
(4%)
Sugar:
6
g
(7%)
Vitamin A:
145
IU
(3%)
Calcium:
4
mg
Iron:
0.7
mg
(4%)
"This website provides approximate nutrition information for convenience and as a courtesy only. Nutrition data is gathered primarily from the USDA Food Composition Database, whenever available, or otherwise other online calculators."